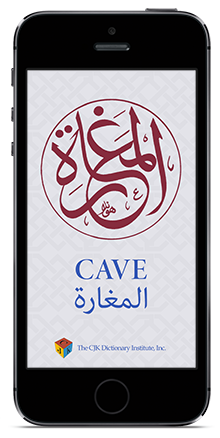 User reviews:
Google Play Store
Cave ★★★★★
by Christopher Collier - Feb 14, 2018
I recently switched from iOS to android. One of my biggest concerns was this app was not available but I'm glad to see it be ported. I would consider it an essential app for an Arabic learner in addition to Anki and the free Hans Wehr dictionary. It really gives you a powerful understanding of how words in Arabic relate to each other in a way that verb tables in a book don't. Quite expensive but definitely worth it.
USA App Store
Cave ★★★★★
by Abdulpyton - Jan 12, 2017
Hello! My name is Abdul, I just wanted to say, I love this program. I have for along time been looking for something like this. It has made my task much easier than before. I don't claim to no expert in translating, but it was very hard to for me gather all this information. I spent years studying Arabic and was not satisfied with the results I was getting. But this program helps me get my work done much sooner. Awesome achievement. Thanks
Most useful app for Arabic conjugation ★★★★★
by Jrfalconer - Jan 28, 2016
Not only is this the best app of its kind, it's the most effective tool anywhere for conjugating Arabic verbs. In fact, I no longer turn to books or websites for conjugation, because this app is so much easier to use. Kudos to the developers! More verbs, especially irregular forms, would be a most welcome addition.
a perfect app for unlocking arabic verb tenses. ★★★★★
by a503 - Oct 15, 2015
this is exactly what i was hoping someone would make. a great complimentary tool to an arabic dictionary. perfect for any student of arabic. highly recommended. anyone interested in this should also check out cjki's libera app. which is also perfect.
Good app ★★★★★
by internationalbg - Mar 14, 2015
I was hesitant to buy because of the price and there were no reviews. But I really needed a verb study tool so I tried. It's good, just what I need. The quiz tool is great. I wish I could turn off the romanisation and only have the Arabic, but otherwise great.
Extremely helpful!!!! ★★★★★
by Lucyb86uk - Mar 10, 2015
This was well worth the money. I just started learning Arabic and this tool has been extremely helpful. I have encountered NO bugs at all. Right now this is my most used app. A extremely high quality app..
So helpful ★★★★★
by Lucyb86uk - Jan 3, 2015
Totally worth the money.
17 Stars out of 5 ★★★★★
by Thrashre - Sep 5, 2014
UN.BE.LIEVEABLE. For learning verb conjugation of the Arabic language, this is quite simply, perfection.
Super ★★★★★
by Shajeeb314 - Jul 6, 2014
This app is super awesome for any Arabic language student. Highly recommend. Keep up the good work.
Amazing app for verb conjugation ★★★★★
by العربية احب - Apr 26, 2014
This app is an incredible, comprehensive verb conjugation tool. It is so easy to use, and it has every single verb I have ever needed to find. There is also an audio recording for every single verb and tense. This was worth every dollar I spent for the app.
Excellent! ★★★★★
by Kedeezy - Feb 1, 2014
The very BEST of the best. Indispensable, and worth every penny.
Excellent! ★★★★★
by يحيى ابو - Sep 1, 2013
As a student of the Arabic language, learning the conjugations is a challenge. However, this excellent app makes it easier to refer to, while it is also a good dictionary. In addition, the customer service is prompt and reliable. I highly recommend this app to all Arabic students!
Brilliant! ★★★★★
by Grimsus - Jan 10, 2013
Wonderful, useful resource! It contains a ton of useful verbs, all their possible conjugations, plus audio. Well worth it!
Extremely Powerful App ★★★★★
by SASlidell - Nov 3, 2012
I have been studying arabic and the verb conjugator is a very power tool in learning different verb forms. Searching Verbs in English or Arabic are very easy. Overall it's a very comprehensive app. Great Job!
Exceeded my expectations ★★★★★
by WKK_10 - Oct 21, 2012
Easy to search for verbs in either language. Quality and intuitive interface. Extremely in-depth, accurate results. Not cheap... but cheaper and far better than an Arabic verbs conjugation book.
Canada App Store
It's worth it ★★★★★
by HaoInka - Apr 10, 2016
This app really is a great help for anyone who wants to write a text in arabic or study the language. It really helps a lot with my studies. The app is easy to use and I would recommend it.
Mr ★★★★★
by Steven J Lane - Jan 27, 2016
I have to say that the Verb Conjugator is an excellent resource for a learner of Arabic whether your beginner or advanced. It has an incredible amount of detail on each verb and I keep finding new options to view. It is laid out in a clear and concise manner beginning with the excellent font, all diacritical marks, and an enlarged font size in the single view mode that fantastic to view individually or when demonstrating in a group situation. [...] We are now learning the verbal form tables in my second year university class and the options to view tenses, basic forms, and verbal form info, plus much more are amazingly complete with perfect use of layout, formats (colour, font types and sizes) and nested options to allow one to navigate to related info to your heart's content. [...] This app has more than filled my expectation and I continue to find subsets of information that continue to impress and delight me. The Verb Conjugator is an invaluable tools worth every cent....
UK App Store
Great App for Learners of Arabic Grammar. ★★★★★
by viqas12 - Oct 14, 2015
الحمدالله This is the first app of its kind I've been able to find; one that tells you which baab a verb is from. It has many verbs in it (I've not come across a verb which this app doesn't contain), tells you which baab it's from, the conjugations of the verb in all of the different verb types (e.g. Passive, active, command, negative command among others). It contains regular verbs as well as irregular verbs. It also allows you to search for a verb through its conjugation, e.g. تنصر for the root word نصر. It also has many useful filters, e.g. Filtering by negative/positive, singular/dual/plural. I myself have found this app very useful, and it's great for anyone learning classical Arabic grammar.
Very good app but please design an iPad version too! ★★★★★
by Dr.Hsn46 - Oct 14, 2015
Quite helpful app for those who find it difficult to learn Arabic verb conjugations. I wish we had an Arabic dictionary of this quality!
A brilliant app ★★★★★
by Yeamin - Aug 3, 2014
I was quite sceptic before purchase of this app however i was proved wrong. It has become an indispensable medium for my learning Arabic. For every verb, there are every different forms as well as root and nominals which is very useful. The verb database is quite rich however from time to time i do come search for verbs that are not on the database. I am hopeful the developer will continue adding new verbs to enrich the database. The only concern would be the price. Maybe if the price was a bit lower, more people could benefit from this app.
Satisfied ★★★★★
by SiddiqSiddiq - Jan 15, 2014
This app don't have any reviews so I was sceptical at buying. I kind of took a gamble astughfirullah. But I must say and this is the first time I've spent over £2 on any app, that this app put a smile on my face this app has all I need to keep on top of verbs All the form the tenses and conjugations it also has a voice repetition so it actual says the word for you. You could put any part of the verb in, like its future tense or its irregular form and it will give you the verbs root for it. Brilliant work Worth the buy. Or you could just carry the big yellow 501verbs book around where ever you go.
Arabic Student ★★★★★
by Tfler - Jan 17, 2013
I rarely write app reviews but feel absolutely compelled to for this app. Put simply, it's one of the most helpful and well designed arabic tools available on the iPhone for students learning arabic. No other iphone application allows you to find all the various different combinations of verb conjugations, and performing the same task with a textbook can take aeons. In addition, the app is extremely well designed and thought through. From the ability to bookmark to the ability to play a sound file for every word, the app is remarkably well built. I've never paid more than £5 for an app before; I've never been more happy with an app purchase though :) I would encourage all students of arabic to buy it!
Italy App Store
Perfect App updated ★★★★★
by Malus1979 - Dec 9, 2014
Wonderful update with possibility to change 2 arabic fonts and stop of tremble!!! Perfect App for the arabic language study!!!!
Brazil App Store
Great App! ★★★★★
by mluiz.emile - Jun 16, 2015
This app is extremely useful! It contains a lot of verbs in all tenses. We can see all the diacritics and the voice helps a lot!
Netherlands App Store
Perfect app! ★★★★★
by rvanes - May 19, 2014
The app is a bit expensive, but worth every penny! Even pronunciation and vowel marks are included! Really recommendable!
Perfect study tool! ★★★★★
by Ayyuvbm - Dec 17, 2012
Beautiful study tool for Arabic grammar.
United Arab Emirates App Store
Very good aplication ★★★★
by Bagban - Apr 12, 2013
Its very nice application for arabic learners for advanced knowledge.. I wish if they could add some sentence samples for word for usage. But overall nice app.
Sweden App Store
Riktigt bra app ★★★★★
by byakhansson - Dec 23, 2015
Denna appen är ett måste för alla som vill finslipa sin Arabiska. Ett ovärderligt verktyg enligt min mening. Hoppas CJKI släpper fler appar för Arabiska språket.