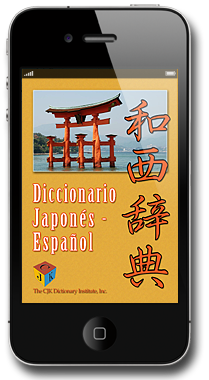 CJKI Japanese-Spanish Dictionary
This CJKI Japanese-Spanish Dictionary, which covers general vocabulary, has been optimized for the convenience of smartphone users. It contains enough translation equivalents and other information to give the user an in-depth understanding of words without cluttering up the screen.
This Japanese-Spanish Dictionary is based on Hispadic, a collaborative web-based Japanese-Spanish dictionary project based on Jim Breen's Edict, and has been revised and expanded by CJKI's team of native speaker proofreaders to bring it up to date.
FEATURES
Contains over 28,000 entries.


Designed for the convenience of both Spanish and Japanese users.


A reverse index allows searching for Japanese entries from Spanish.


No Internet connection required.


History and bookmarks.


Clean, easy to use interfaces localized in Spanish, Japanese and English.


ACKNOWLEDGEMENTS
This dictionary is based on Hispadic and distributed in accordance with the conditions set forth by Hispadic and in the provisions of the Creative Commons Attribution-Share Alike 3.0 Unported license. If you alter, transform, or build upon this work, you may distribute the resulting work only under the same, similar or a compatible license.