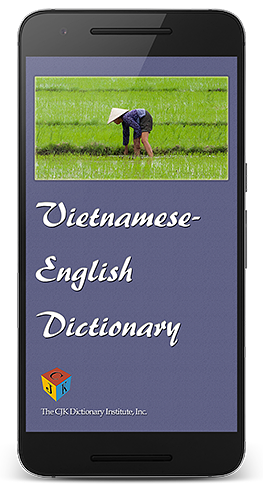 CJKI Vietnamese-English Dictionary
This CJKI Vietnamese-English Dictionary, which covers general vocabulary, has been optimized for the convenience of Android users. It contains enough English equivalents and other information to give the user an in-depth understanding of Vietnamese words and phrases without cluttering up the screen.
This dictionary caters to the needs of learners by providing Vietnamese example sentences, as well as synonyms and antonyms when appropriate. Etymology of foreign loan words and notes about the currency and usage of particular words, such as outdated words or words only used in particular dialects, are shown.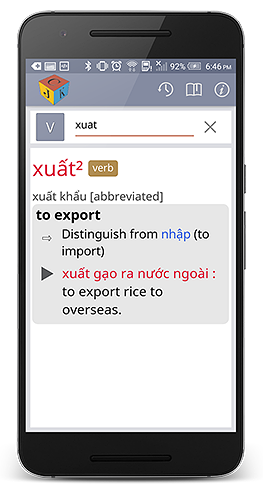 DISTINCTIVE FEATURES
Contains over 27,000 Vietnamese entries


Numerous example sentences show how Vietnamese words are used in context


A reverse index allows searching for Vietnamese from the English


Synonyms, antonyms, loan word etymology and annotations further clarify word meanings


Instantly jump to cross-referenced entries in the English translations


Designed for the convenience of both Vietnamese- and English-speaking users


Offline dictionary - no Internet connection required


History and Bookmarks


Clean, easy to use interfaces in Vietnamese and English